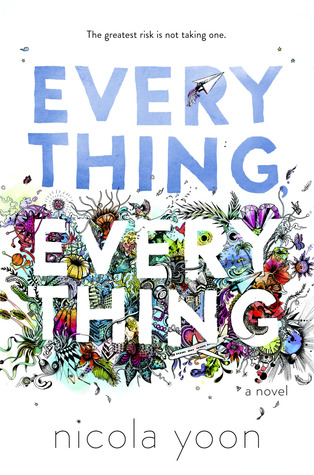 Title: Everything, Everything
Publication Date: September 1, 2015
Publisher: Delacorte Books for Young Readers
Genres: young adult, contemporary, romance
Synopsis
My disease is as rare as it is famous. Basically, I'm allergic to the world. I don't leave my house, have not left my house in seventeen years. The only people I ever see are my mom and my nurse, Carla.
But then one day, a moving truck arrives next door. I look out my window, and I see him. He's tall, lean and wearing all black—black T-shirt, black jeans, black sneakers, and a black knit cap that covers his hair completely. He catches me looking and stares at me. I stare right back. His name is Olly.
Maybe we can't predict the future, but we can predict some things. For example, I am certainly going to fall in love with Olly. It's almost certainly going to be a disaster.
My Review
Typically, I am not the biggest fan of contemporaries unless the story is amazing. This is definitely one of those stories. It is different, yet realistic. I really loved the writing. There are a few charts and doodles inside as well that are very fitting. The story was so compelling that I finished this book in one sitting. I experienced so many feelings while reading this. Sadness, hope, pity, and the heartwarming that came when the two main characters came together. It is truly a wonderful book. I admit that contemporary books are hit and miss for me, but this book was a home-run. Even if contemporary isn't your thing, read this! I recommend this book to all!
What I liked
I loved the main characters. They were described wonderfully and you really get a glimpse into their personalities. I loved the way that they came together in the book. It was beautiful and tragic and heartwarming all at the same time. Any book that came make me feel so many conflicting emotions is a book worth reading and recommending. I loved the twist in the book. I was expecting a tragic end, but I was pleasantly surprised by what the tragedy actually was.
What I didn't like
I have mixed feelings about the ending of this book. It really was a pretty perfect ending. Witty, and heartwarming. At the same time, I wanted more! Part of me appreciated the ending of the book, and another part of me yearns for more, more, more!