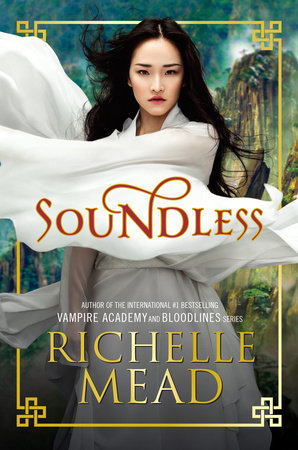 Publication Date: November 10, 2015
Genres: Young Adult, Fantasy, Mythology, Romance, Historical Fiction
Synopsis
In a village without sound…
For as long as Fei can remember, no one in her village has been able to hear. Rocky terrain and frequent avalanches make it impossible to leave the village, so Fei and her people are at the mercy of a zipline that carries food up the treacherous cliffs from Beiguo, a mysterious faraway kingdom.
When villagers begin to lose their sight, deliveries from the zipline shrink. Many go hungry. Fei and all the people she loves are plunged into crisis, with nothing to look forward to but darkness and starvation.
One girl hears a call to action…
Until one night, Fei is awoken by a searing noise. Sound becomes her weapon.
She sets out to uncover what's happened to her and to fight the dangers threatening her village. A handsome miner with a revolutionary spirit accompanies Fei on her quest, bringing with him new risks and the possibility of romance. They embark on a majestic journey from the peak of their jagged mountain village to the valley of Beiguo, where a startling truth will change their lives forever…
And unlocks a power that will save her people.
My Review
This book could have been so much more than what it was. I was so excited when reading the premise of this book. A fantasy set in Chinese folklore. I mean, come on, that sounds amazing! But, alas, the book was anything but. The story lacks depth. I was expecting to be immersed in a wonderful fantasy story, but the fantasy was barely there. In fact, while reading the book you don't really get a glimpse of any fantasy until the very end of the book which makes it read like a historical fiction up until that point. There are tiny bits of folklore tossed in the book at a few spots, but it doesn't make up for lack of fantasy feel to the book.
What I liked
The premise of this book is great. With more development, this book could have been incredible.
The one thing about this book that I enjoyed was the characters. I really liked Fei's character. She is strong and selfless. I think that she could have been developed much more, but the base of a good character is there.
I did like the relationship that Fei had with Li Wei. They were friends since childhood until her career choice distanced them. The romance was very mild, but their relationship was a delight.
What I didn't like
The lack of fantasy was a big deciding factor for me. I don't read fantasy books to trudge through a historical fiction and have a little bit of fantasy slapped on at the end. I truly think that if more fantasy would have been included throughout the book that it could have been great.
The Chinese culture did not seem to be represented very well. To be honest, I didn't feel as though I was reading a book set in Chinese culture at all. I was so disappointed.
The world building needs much improvement. Not only the Chinese culture, but everything else as well. Better descriptions of their village- living arrangements, what the children do while parents are working, what people do for fun (if anything), more careers (there has to be more than just miners and artists), and what daily life is like for everyone (not just artists). I would have liked to have known more about the kingdom, the king, and I would have liked more of a connection to the folklore. The folklore and fantasy part of this book is too minimal. The story just needs more details.
While I liked the relationship between Fei and Li Wei, the romance was almost non-existent. I was at least expecting a romance worth reading, but there was no buildup and execution at all.
The story was dull. While reading the book I didn't feel a connection or even remotely interested in the outcome of the book. Towards the beginning of the book I kept hoping for for something that didn't come. Towards the end of the book I was just reading to find out what happens. The hope was gone. At that point I wasn't expecting anything.
Would I Recommend It
This book isn't for everyone. If you are looking for a light read then you will most likely love this. If you are looking for a book that is immersed with fantasy and folklore, then I think you will be disappointed. I personally would not recommend this. There were too many things that needed development.