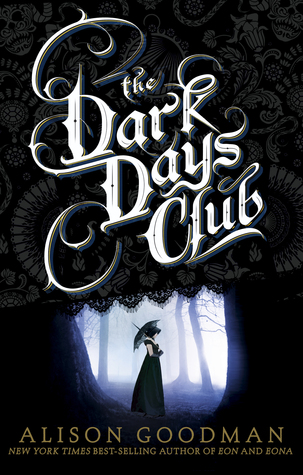 Title: The Dark Days Club
Publisher: Viking Books for Young Readers
Publication Date: January 26, 2016
Genres: Historical Fiction, Young Adult, Fantasy, Paranormal, Romance, Supernatural
Source: ARC from publisher
I received this book for free from the publisher via First To Read in exchange for an honest review.
Synopsis
London, April 1812. On the eve of eighteen-year-old Lady Helen Wrexhall's presentation to the queen, one of her family's housemaids disappears-and Helen is drawn into the shadows of Regency London. There, she meets Lord Carlston, one of the few who can stop the perpetrators: a cabal of demons infiltrating every level of society. Dare she ask for his help, when his reputation is almost as black as his lingering eyes? And will her intelligence and headstrong curiosity wind up leading them into a death trap?
My Review
This was a remarkable book! I didn't know that there was a sad little gap in my reading life until I read this book. I found that I now have a new favorite genre that I never even knew truly existed before: a historical book with fantasy or paranormal elements. Seriously, I am hooked and I need more books like this pronto!
What did I like, you might ask? The WRITING! OMG, the writing is insanely good! Everything is written so beautifully and flawlessly. There are plenty of details to gain an understanding of how this time era is and what is happening within the story, but not so much that it gives away anything. It is just brilliantly written. Goodman definitely did her research and it shows. This world is complex and all of the elements come together perfectly.
The character development is outstanding. The characters are written in such a way that you get the sense that you know these characters completely. Especially the main character, Helen. She is an engrossing character and I felt so many of the things that she felt while reading this. I tremendously liked the way that the two main characters come together. While there wasn't really romance involved, there is a tension between them that cannot be denied. It is invigorating! I can't wait to see what happens between them in the next book in this series. I also very much loved the female friendship between Helen and her personal maid.
I felt that the supernatural part of the story took a long while to come to light. I expected to be thrust into it more quickly. I can't say that it necessarily took anything away from the story, but I can't deny that I felt less than immersed in the story at the beginning. After the supernatural part of the story presented itself, I was immediately hooked. If you are the type of reader to put a book down if it isn't immediately gratifying then this book may not suit you.
I would absolutely recommend this! This book has so many compelling components and leaves you wanting more. I couldn't put this book down, and I am sure that it will have the same effect on you. I truly loved this book! The next book in this series will not be released soon enough for me!
If you have read The Dark Days Club, what did you think? Do you like reading historical novels?