"Waiting On" Wednesday is a weekly meme hosted by
Breaking the Spine
that spotlights upcoming releases that we're super jazzed about.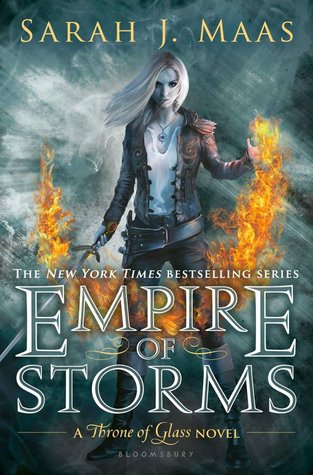 Series: Throne of Glass #5
Publisher: Bloomsbury USA Childrens
Publication Date: September 06, 2016
Genres: Young Adult, Fantasy
Synopsis
The long path to the throne has only just begun for Aelin Galathynius. Loyalties have been broken and bought, friends have been lost and gained, and those who possess magic find themselves at odds with those don't.
As the kingdoms of Erilea fracture around her, enemies must become allies if Aelin is to keep those she loves from falling to the dark forces poised to claim her world. With war looming on all horizons, the only chance for salvation lies in a desperate quest that may mark the end of everything Aelin holds dear.
Aelin's journey from assassin to queen has entranced millions across the globe, and this fifth installment will leave fans breathless. Will Aelin succeed in keeping her world from splintering, or will it all come crashing down?
About the Author
Sarah J. Maas is the author of the New York Times, USA Today, and internationally bestselling Throne of Glass series–Throne of Glass, Crown of Midnight, Heir of Fire, Queen of Shadows, and the series' prequel, The Assassin's Blade–as well as the New York Times and USA Today bestselling A Court of Thorns and Roses and its sequel A Court of Mist and Fury. She wrote the first incarnation of the Throne of Glass series when she was just sixteen, and it has now sold in twenty-three languages. Empire of Storms, the fifth Throne of Glass novel, will release on September 6th, 2016
A New York native, Sarah currently lives in Pennsylvania with her husband and dog. She graduated Magna Cum Laude from Hamilton College in 2008 with a degree in Creative Writing and a minor in Religious Studies.
My Thoughts
The covers in this series just keep getting better and better! I am a series binge reader. I was going to wait to read this series after the very last book came out, but I started reading them this month because I couldn't make myself wait any longer! I am in the middle of the series now and I am so in love with it. I now know what I was missing out on the past few years when people were talking about the greatness of this series. It is now one of my favorite series!