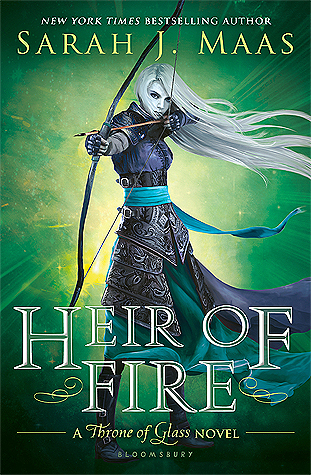 Title: Heir of Fire
Series: Throne of Glass #3
Author: Sarah J. Maas
Publisher: Bloomsbury USA Childrens
Publication Date: September 02, 2014
Pages: 565
Genres: Young Adult, Fantasy
Source: Amazon
Goodreads | Amazon | B&N | BD
Celaena has survived deadly contests and shattering heartbreak?but at an unspeakable cost. Now, she must travel to a new land to confront her darkest truth . . . a truth about her heritage that could change her life?and her future?forever. Meanwhile, brutal and monstrous forces are gathering on the horizon, intent on enslaving her world. Will Celaena find the strength to not only fight her inner demons, but to take on the evil that is about to be unleashed?
The bestselling series that has captured readers all over the world reaches new heights in this sequel to the New York Times best-selling Crown of Midnight. Packed with heart-pounding action, fierce new characters, and swoon-worthy romance, this third book will enthrall readers from start to finish.
MY REVIEW
Heir of Fire was so much different than the first two books in the Throne of Glass series. I don't know how to pinpoint it, but it was just the overall feeling while reading Heir of Fire. It could be the introduction of new characters, or the separation of previous characters from one another, but something felt different.
The first thing that I have to say about Heir of Fire is that is started out rather slow to me. It took me a while to really get into reading it, where I was totally immersed in the first two books from the beginning. I was a little worried at first, but I stuck through it and I am thankful that I did. It really paid off in the end. The second half of Heir of Fire is where everything happens and things are revealed. There is a lot of build up to it and it may seem pointless or tedious, but if you are having trouble just stick it out. Things fall into place in the end.
The character growth in this book for Celaena was phenomenal. We learn so much more about her past and most of it really broke my heart. It solidified her as a whole and made me see her in a new light. Things that I already knew about her, but experiencing them with her in memories was heartbreaking. I honestly teared up while reading through some of her memories. I have so much more respect and love for her character after reading Heir of Fire. Dorian felt so much more mature in this book than the previous two books. I think that the discovery of his magic really sobered him into maturity. Chaol is still grieving for the relationship that he and Celaena shared, all while still trying to protect her, even though she was so far away. Chaol and Dorian's relationship suffers because of Chaol's secrecy and his insecurities and perhaps prejudice of Celaena's fae heritage. I really love Chaol and I can only hope that he has a happy ending before the end. I am so hoping for that for him.
There were many new characters introduced in Heir of Fire. The most noteworthy were Rowan, Aedion, and Manon, but I also have a soft spot for Emrys as well. Rowan is just as much a tortured soul as Celaena is, and think that is the reason they connect so well in this book. A romance did not form between them, only a friendship, but it isn't hard to see the love forming between them. I just loved Aedion. He has been through just as much heartache and torture as his cousin, and he still stands tall. He clearly loves his cousin and misses her. He believes in her so much, and it's really beautiful. I really adored what I saw of him in Heir of Fire. Manon was an interesting character, and I am curious to see how her story plays out. She is inherently evil, a witch, but I can sense something changing in her. I hope that I am right. Emrys was such a delightful character, and I hope to see more of him in the next book.
Sarah J. Maas is a plot weaving goddess! The depth of the story is phenomenal. The way that the plot grows and the dots connect as each book comes along is simply genius. A ridiculous amount of planning and plotting has gone into this series that I cannot applaud Maas more for. I seriously get a high on the sheer thought of how intricately woven this story is. This world is vast and beautiful, and I love it.
Deep down I really adore Dorian, so his fate at the end of Heir of Fire broke my heart so much. I don't know what the future will hold for him, but if things cannot be mended I might not be all right. I need Dorian to survive until the end.
The emotions in this book are paramount to the other books in this series. The feelings felt throughout this book are so intense. I haven't felt so much while reading a book in a long while.
Overall, I have so much love for this series. It has captured a part of my heart that I did not know existed. If you have not experienced this phenomenal series then you are missing out on something wholly unparalleled. Something entirely unique and so very special. If you have not read this series yet then you should give it a try. I recommend this series to all, especially those that love fantasy.